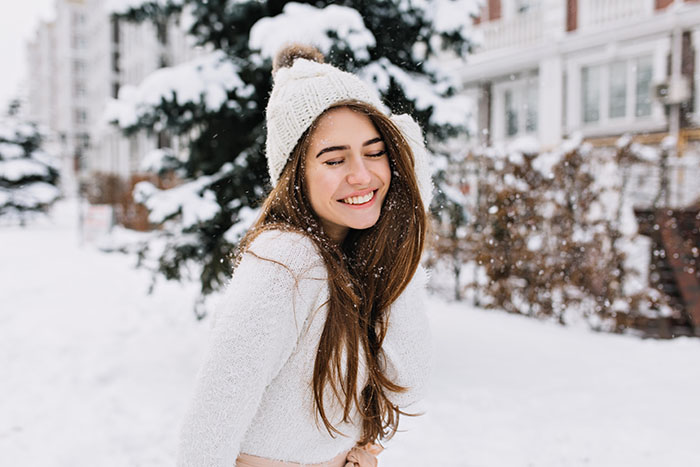 We expose our hair and skin to all sorts of elements in the winter.
Snow and rain, dry heat blasting in our face as we drive in our cars, pulling hats on and off, dry air inside our homes, wet hair that turns to ice outdoors. These conditions can take a toll. Here are a few tips for surviving the cold weather while still taking care of your hair.
Let it Grow
Feed your hair. Drink water. It seems so obvious, but it's easy to get dehydrated in the winter because we often don't feel hot, so we don't realize we're dehydrated. Dehydration will cause problems like dry lips, flaky skin, static in the hair, or hair that's dry, brittle, and breaks.
Besides getting your water, it's important to nourish your hair inside and out. Take your vitamins, especially ones with biotin and omegas. Omegas will help put moisture back into the hair, skin, and nails. It's also a good idea to add extra moisture treatments to your routine. Deep conditioning the hair will help control static and make hair less brittle. Ask a professional which treatment would be best for your hair.
Let it Glow
Avoid dull-looking hair by getting a shine gloss service at your salon. This quick color service not only adds shine, it also seals the cuticle down and acts as a conditioning service as well.
Use hair oils to keep your hair from getting dry and brittle. Oils help maintain the elasticity in your hair and keep it flexible, so it doesn't break. Shine sprays not only add shine but are a quick-fix for stopping static right away.
Let it Go
With the constantly changing weather conditions, plus hats and scarves, you don't want to spend all winter fighting against what your hair wants to do. So just go with your natural texture. Ask your stylist what products would help you work with your texture, instead of against it.
On those days when you want to feel your best or when you have an event to attend, treat yourself to a salon shampoo and blowout. Not only do they last longer, you'll be amazed at how it improves your psyche and boosts your mood.