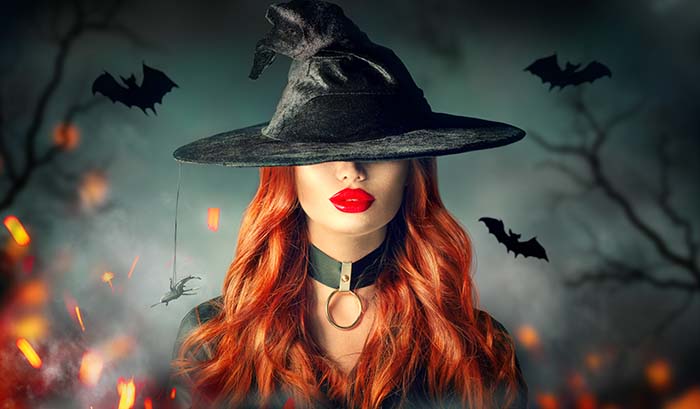 With Halloween upon us, it's time for all sorts of spooky stories with an air of creepiness. Maybe it's more like crispy air than creepy air, but either way, the season is here. I'm sure all of you could tell a tale of traumatic, scary things that happened to your hair. If not your own hair, you know someone who's had scary hair stuff happen to them. So on this day of crispy and creepy, let's share about hair.
I don't think I could count all of the (literally) scary stories that I've heard over the years from my clients — not even including the ones related to their hair!
But here are a few memorable ones I've heard over the course of my career…
One client got a referral from someone whose hair she loved. It turned out that the referred stylist was booked out for at least a month, but she told her that another stylist in the salon would do a great job. She decided to go with the other stylist, trusting all would go well. When she got to the salon and sat down in the stylist's chair, they discussed what she wanted to do with her hair. She could smell a strong odor of alcohol on the stylist's breath but dismissed it thinking, "Nah, I'm sure it's mouthwash. It's only noon." The stylist stumbled a couple times, then excused herself saying she was going to go grab a cape. Before leaving, she asked the client if she wanted a glass of wine for the appointment. "Oh no, thank you," she said as she realized, "That was alcohol I smelled." As she stumbled back with the cape, the stylist proceeded to pour HERSELF a glass of wine and slurringly asked what color she would like to do on her hair. "Oh no. How am I going to get out of this?" she worried. "This stylist is definitely drunk." Not wanting to offend, but afraid to stay, she asked if they could skip the color and do just a cut instead. Turns out, it wasn't the best decision. What she thought would be a nice, safe bob turned out to be an asymmetrical bob with holes where the layers were supposed to be. It took months for her to grow it out and to trust someone to touch her hair again. The first time I met her, months after this experience, she was very nervous. Rightfully so; it was a really bad cut. It took a lot of talking for her to calm down and trust me. I was able to exercise the demons out of her hair, and give her the look she originally wanted.
Another client of mine loooooved his prized possession — his hair. I would spend a good amount of time every month conditioning and carefully cutting it for him. I'm pretty sure he devotes more time to his perfectly coiffed mullet each morning than most women spend doing their hair and makeup. This is where the story takes a turn. One day while throwing a back yard party, he was firing up the grill. I like to think he was spontaneously possessed when he grabbed the lighter fluid and sprayed it. Your imagination can probably picture what happened next. Sadly, there wasn't much I could do to save his prized possession and we had to cut it all off.
In my salon, I tend to do a lot of big color corrections. Sometimes these are mistakes other stylists have made, and sometimes the clients did it to themselves. One particular person had applied a Henna color all over her own hair, thinking it would accentuate her natural hair color. The outcome didn't turn out as expected. It was spotty, so she asked her friend to highlight her hair thinking it would blend the oh-so-trendy-but-not-in-your-hair-leopard-print situation that had occurred. Long story short, by the time I met her it was green. Like zombie, Frankenstein green. (Side note: If you do henna, don't expect it to come out of your hair. Often, it won't. And it's most often a disaster.) I waved my wand and, several hours later, I used my color knowledge to bring her hair back to life.
I've heard and seen many other scary hair stories, but I would love to hear about yours!